Best of Kerala Package
Best of Kerala Package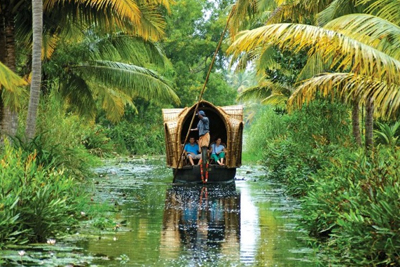 06 Nights / 07 Days
Day 1. Cochin
Kochi (colonial name Cochin) is a vibrant city situated on the south-west coast of the Indian peninsula in the breathtakingly scenic and prosperous state of Kerala, hailed as 'God's Own Country'. Its strategic importance over the centuries is underlined by the sobriquet Queen of the Arabian Sea. Informally, Cochin is also referred to as the Gateway to Kerala.
From time immemorial, the Arabs, British, Chinese, Dutch, and Portuguese have left indelible marks on the history and development of Cochin. Over the years, Cochin has emerged as the commercial and industrial capital of Kerala and is perhaps the second most important city on the west coast of India (after Mumbai/Bombay). Cochin is proud of its world class port and international airport that link it to many major cities worldwide.
This lovely seaside city is flanked by the Western Ghats on the east and the Arabian Sea on the west. Its proximity to the equator, the sea and the mountains provide a rich experience of a moderate equatorial climate.
Strictly speaking, Cochin is a small town. But, Cochin has outgrown its original bounds and is now the general name given to much of the region adjoining the original town, which now includes Cochin, Fort Kochi, Mattanchery, Ernakulam and many other nearby towns and villages. Cochin is situated in Ernakulam district in the state of Kerala. Ernakulam is also the name of a town - the administrative capital of Ernakulam district - but, for all practical purposes Ernakulam and Cochin, generally, refer to the same place.
Day 2. Munnar
Munnar is situated at the confluence of three mountain streams - Mudrapuzha, Nallathanni and Kundala. 1,600 m above sea level, this hill station was once the summer resort of the erstwhile British Government in South India. Sprawling tea plantations, picture-book towns, winding lanes and holiday facilities make this a popular resort town. Among the exotic flora found in the forests and grasslands here is the Neelakurinji. This flower which bathes the hills in blue once in every twelve years, will bloom next in 2018. Munnar also has the highest peak in South India, Anamudi, which towers over 2,695 m. Anamudi is an ideal spot for trekking.
Let us now explore some of the options in and around Munnar that would provide travellers ample opportunities to enjoy the captivating hill station of Munnar.
Day 3. Munnar
One of the main attractions near Munnar is the Eravikulam National Park. This park is famous for its endangered inhabitant - the NilgiriTahr. Spread over an area of 97 sq. km., this park is also home to several species of rare butterflies, animals and birds. A great place for trekking, the park offers a magnificent view of the tea plantations and also the rolling hills caressed by blankets of mists. The park becomes a hot destination when the hill slopes here get covered in a carpet of blue, resulting from the flowering of Neelakurinji. It is a plant endemic to this part of the Western Ghats which blooms once in twelve years.
Day 4. Thekkady
Thekkady in Kerala State , India 's largest wildlife sanctuary is a dream destination for any tourist visiting India . The 120 years old 'Surki' dam built across Peryiar, Poorna in Vedic parlance, is a major tourist attraction. This sanctuary is spread over an area of 777 Sq.Kms, surrounded by an artificial lake over an area of 25 Sq.Kms.The Country's sole Tiger reserve, Thekkady, with its bountiful treasures of tropical flora and fauna is the ultimate reservoir of many an endangered species and a rich tribal culture. Thekkady is a pleasant heaven on earth for those who love nature in its wild manifestations.
Day 5. Alappy Houseboat
Alleppey boat house is very attractive and calling the dynamic personalities from inside and outside the country. It's a friendly gesture to be with us. Register an experience the houseboat cruise and journey now with us. It's both cultural and physical entertainment for the eyes and refreshment to the minds of the guests. Tours in India boat house cruise packages in Alleppey provides cultural entertainments in instance at the visitors request such as Kathakali, Ottanthullal (Kerala folk dances).Alleppey and Kumarakom backwater house boat tour through the greenish is a special moment for everyone in their life. It is an incomparable phenomenon to be present in Kerala luxury house boats. We welcome all nature loving tourists to enjoy, relax and cruise through the backwaters of Alleppey also known as backwater beauty Alappuzha.
Day 6. Kavalom
Kovalam is an internationally renowned beach with three adjacent crescent beaches. It has been a favourite haunt of tourists, especially Europeans, since the 1930s. A massive rocky promontory on the beach has created a beautiful bay of calm waters ideal for sea bathing. The leisure options at this beach are plenty and diverse. Sunbathing, swimming, herbal body toning massages, special cultural programmes and catamaran cruising are some of them. The tropical sun acts so fast that one can see the faint blush of coppery tan on the skin in a matter of minutes. Life on the beach begins late in the day and carries on well into the night. The beach complex includes a string of budget cottages, Ayurvedic health resorts, and convention facilities, shopping zones, swimming pools, Yoga and Ayurvedic massage centres.
-Tour End-
Dee Adventure assure to make your trip memorable, we have end no. of hotels to stay from three star to five star hotels & resorts, all type of vehicles to make your journey comfortable. Contact us for further any information and tour price.
Send us your query : 
info@deeadventureholidays.com
or Call us : +91-9810-465-860