Mind & Soul Tour
Mind & Soul Tour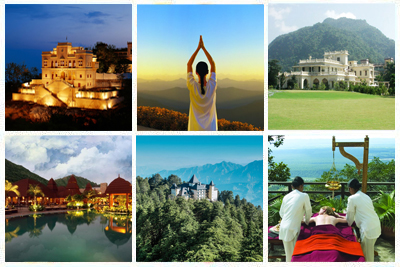 The great Rishimuni & Pandit Gyan Sharan ji Maharaj said when your soul is not happy, then how could be your mind and body feel healthy. To keep happy of your soul and mind you need to rejuvenate yourself. Daily exercise and Yoga keep your body fit, but your mind and soul still need extra effects and need your time. The best way go away from your daily life, City traffic, office stress, high pressure of sales targets, chasing of incentives, running behind money.
Look when your Soul & Mind really needs your help and then you realize your health will not help you to enjoy the life's each and every enjoyable movement. You have enough money to buy everything, but not health to enjoy anything.
"Manushya ka Janam apni Jatiaav apne Kull ka Kalyan karne ke liye hua hai na ki apne Kul ke vinash keliye"
With spirit of these great words we have tie-up with one of the great spa and therapy resorts. Who will help you to keep out of stress and make your soul and mind healthy and fit.
Ananda in the Himalayas
Located in the tranquil Himalayan foothills, close to the mythological cities of Haridwar and Rishikesh, surrounded by graceful Sal forests, overlooking the peaceful Ganga as it meanders into the distance. Ananda is the spiritual pathway to the ultimate, discovered through the union of body, mind and soul.
It is not just a retreat that will leave you breathless with the enchantment of its surroundings, but assists in redefining lifestyles to include the well-known traditional Indian wellness regimes of Ayurveda, Yoga and Vedanta combined with best of International Wellness Experiences
Ananta Spa Pushkar
Ananta, The sprawling 9 acres luxury spa resort, of Pushkar - home to the only temple in the world of Lord Brahma - the Hindu God of Creation.Somewhere along the crowded, busy and challenging oasis of life, there lies this sanctuary of bliss.
A place where the mind, body and soul get replenished with the warm energy of wellness. Ananta expertly combines a luxuriant ambiance with welcoming human touch, to rejuvenate your 5 senses.
God created this beautiful five star luxury hotel in Rajasthan for discerning business travelers, conferences, weddings and families from all over the world.
So come and experience peace and tranquility in Ananta, Gods own resort in Pushkar!
Moksha Himalayas Spa Resort
Moksha is situated in the Shivalik Ranges amidst tall Pine Trees at a Height of over 5000 feet besides the river "Kaushalya" built in the lap of nature. It is an ideal destination for people in love with nature and its creation. Come here to connect with your inner self and rejuvenate your soul.
This majestic Himalayan Spa resort is just over 4 hours from New Delhi and is well connected from other important cities by regular flights and trains. With just about 30 minutes from Chandigarh Airport and 10 minutes from the Kalka train station, Moksha Himalaya Spa Resort offers a unique arrival experience by Swiss gondolas which take you across the mesmerizing valley over the river in 8 minutes to our environment of luxury set in the lap of nature and in the privacy of the HIMALAYAS.
The location is suitable for couples families and groups alike.
The resort can provide you with guided trekking tours should you wish to get closer to Mother Nature.
Wildflower Hall, Shimla in the Himalayas
Situated at 8,250 feet in the magnificent Himalayas, Wildflower Hall is a fairy tale luxury resort set in 22 acres of virgin woods of pine and cedar. The former residence of Lord Kitchener, rebuilt to a new magnificence, Wildflower Hall recreates the grand style of the colonial era. Wood panelling and original artwork create an aura of old world charm. Teak wood floors, hand knotted rugs and rich furnishings complemented by spectacular views make the rooms very special retreats.
For centuries, the Himalayas have inspired awe and awakened spirituality in the souls of all mortals who encounter their greatness. This fairy tale resort offers a tranquil sanctuary in the mountains. The Oberoi spa at the resort offers holistic treatments based on Ayurveda, Oriental and Western traditions in private spa suites or pavilions that are ensconced in a dense cedar forest and offer spectacular vistas of the majestic snow peaks.
Enjoy beautiful views of mountains and valleys from the restaurants, outdoor Jacuzzi and the heated swimming pool. Take leisurely walks on the trails winding through the fragrant pine forests and enjoy Gourmet picnic hampers that accompany your explorations. For the adventurous the resort offers white river rafting, trekking, mountain biking, archery, billiards, ice skating (in winter) and golf.
Please get in touch with us for the package details or write us on
deeadventureholidays.com
Let's take step ahead for better health and better future...
Please take an advice from us and to make all arrangements for you.
Send us your query : 
info@deeadventureholidays.com
or Call us : +91-9810-465-860