Solo Female Travel
Solo Female Travel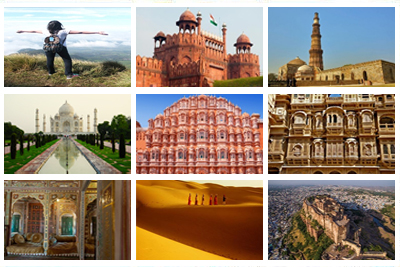 Female traveling the world as a solo? What happen always worried about you? Nervous? Your friends and family always advice not to travel alone as world is "being dangerous"? Not sure where to begin? Fear not. Many women travel the world alone and end up fine.

Today is world of new generation and quite advance minded, female knows better how to take care self and how to make their safety. "Dee Adventure Holidays" is just helping hand to those female travelers who wants to discover India as Solo traveler. We have design the packages with the respect of female travelers and completely taking care of their safety and security.

We have done end no. of bookings for Solo female travelers and they are quite happy with our services. What we have the unique service to perform best and make it different from other tour operators that we provide female companion tourist guide with nominal extra charges if someone looking and to afford. Guide will be as companion for you and along traveling throughout your journey as your guide as well as your safety advisor. Those traveler who do not want to have companion travel guide, our expert team assign the trust worthy drivers which have more than 10 to 15 years' experience to drive cabs on tourist's destinations with valid commercial license, depth knowledge of routes and able to handle critical situations.

We are offering package for every region of India and also expert to make tailor made itineraries. Please find some of famous Tour Package as follows:-

Golden Triangle: - The Most famous and quick "Bharat Darshan" (Discover India) cover Delhi, Agra and Jaipur.
(Short Description)
A remarkable journey start from Delhi to Agra, the city of Monument of love "The Taj Mahal" and you can cover the Agra fort, Sikandra and beautiful architectural place Fathepur Sikri, use to be a Capital of Mughal Emperor Akbar.
After Spending two nights, journey proceed to Jaipur, Pick City of Rajasthan. City have so much charm of their Rajasthani Culture, monuments, forts and City palace. So much fun to shop and buying local artificial and beautiful gems jewellery. City place welcome you with their Royal hospitality and explain the history of Jaipur rulers and their lifestyle. You do not feel like where the two nights spend with so much fun.
With the sweet memory you will proceed to further journey and back to Capital of India Delhi. Delhi have everything as per you mood, rich history with remarkable monuments like Qutab Minar, Jantar Mantar, Red Fort, Lotus temple, Birla Mandir, Humayun's Tomb, India Gate and Rashtrapati Bhawan. And the most thrilling walk-in tour Chandni Chownk.
This tour can be modify as per requirement and budget, Minimum four nights and if looking for best comfortable journey recommended six nights Seven days. We always recommend three star hotels to end no. of luxury hotels. And we have three different budgets Starts from USD 550/- USD 1250/- & with luxurious 5* hotel USD 2500/- Per Person.


---
Golden Triangle with Jungle Safari: - "The Bharat Darshan" (Discover India) cover Delhi, Agra, Jaipur and Ranthambore Tiger Reserve National Park.
(Short Description) Journey starts with Agra and cover Taj Mahal, Agra Fort, Sikandra, Fatepur Sikri and proceed to Pink City Jaipur and covering City Palace, Hawa Mahal, Jantar Mantar, Amer Fort.
From Jaipur to visit Ranthambore forest, the most adventurous forest with end no. of wild Animals and the most famous and main attraction "Tiger". And after that proceed to Delhi.
Tour length minimum five nights and recommended comfortable journey seven nights eight days.
This Tour package with three different budget options cost you USD 850/- USD 1700/- and end no. of luxury USD 3500/- per person.


---
Royal Rajasthan Tour: - The best of Rajasthan tour which cover, Delhi, Agra, Jaipur, Bikaner, Jaisalmer, Jodhpur, Pushkar.
The wonderful journey of Royal Rajasthan covering magnificence 12nights 13days tour with lots of enthusiasm. Rajasthan is the place of full heritage culture, colourful costumes, mouth-watering cuisine, big havelies with art & craft, wall paintings, forts, cannons and lots more.
(Short Description)
Tour will start from Delhi to Agra, sightseeing with The Taj Mahal, Agra Fort, Sikandra, Fatepur Sikri and proceed to Jaipur and you are covering City Palace, Hawa Mahal, Jantar Mantar, Amer Fort and local market. This remarkable journey takes you further Bikaner and covering city fort, Lalgarh Palce and Jain temples.
After Bikaner your next excited destination is Jaisalmer, Jaisalmer is famous for his Thar Desert, incredible Sand & Dunes. City Fort, famous Patwon Ki Haveli, Saleem Ki Haveli and local temples. After Jaisalmer your next stop will be Jodhpur and place of Royal kingdom with lots of charm. Maharangarh Fort is the Iconic mark of this city and end no. of Cannons welcome you on the top roof of the fort. Fort is combine rich cultural with beautiful architect building. This is the not only end you are also visiting Umed Bhawan museum. Part of Umed Bhawan convert in Luxurious 5* hotel and part of building still with Royal family.
End of the royal journey you will come to Pushkar, Pushkar is not only heritage city it's also has lot of Religious status. Every year in the month of November there is big camel fair in Pushkar. Your excited journey end up in Delhi with their own charm and beauty. And sightseeing coving with Qatab Minar, Red Fort, Humayun's tomb, Lotus temple, Birla Mandir, India Gate, Rashtrapathi Bhawan and old Delhi Charm Chandni Chownk walking tour.
This Tour package with three different budget options we have for you USD 1500/- USD 2500/- and end no. of luxury USD 5600/- per person.
This is not an end, we have end no. of tour itinerates for Female Solo travel. If you are looking for Temple tour which cover Varanasi, Khajuraho, Ujjain. If you looking for Spiritual tour or looking for best of South India we have best of Kerala tour.
If you are looking for adventure tour than we have river rafting, Cliff Jump, Bungee jumping, rock climbing, Trekking Paragliding, Ski tour, Scuba diving, para sailing and most thrilling tour of Leh & Ladakh. We have also tours for Bhutan, Srilanka, Nepal & Maldives.