Trip to Taj Package
Trip to Taj Package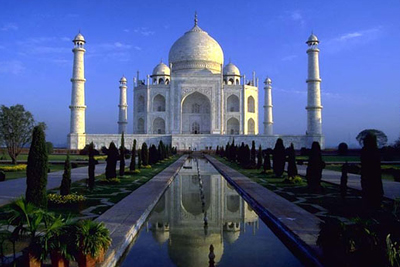 We have specially deigned the package for the corporate and business travellers who came for short trip to India or first time came to India. We organise same day's trip to Agra by sedan Car or any choice of your vehicle.
For family peoples we have best tour for Agra, Jaipur and Delhi (Golden Triangle).
Golden Triangle
---
Day I :              ARRIVE DELHI          BY : INTERNATIONAL FLIGHT 
---
Met on arrival at T3 Indira Ghandhi Airport Delhi
Transfer to Hotel .  
---
Day II :              DELHI - AGRA          BY : ROAD 
---
0700 hrs Morning after breakfast drive to Agra (204kms / 5 hrs) enroute visit sikandra. On arrival check in at hotel Clarks
Post lunch tour of Taj Mahal and Fort
1400 hrs The Taj Mahal is everything that has been said about it and more. Taking 22 years and 20,000 men to build, the white marble was quarried 200 miles away and was transported to the site by a fleet of 1000 elephants. Built by the Mughal Emperor Shah Jahan as an expression of his love for his wife Mumtaz Mahal, in mid 17th century, the Taj Mahal is truly one of the wonders of the world. Though the Taj appears to be amazingly perfect from almost any angle, it is the close-up marble inlay work, which is really astounding. You will have ample time to view and be mesmerized by this outstanding piece of architecture.

Also visit the Agra Fort, an outstanding example of Mughal architecture. Agra Fort - the seat and the stronghold of the Mughal Empire under successive generations. This was the seat of Mughal rule and administration and the present structure owes its origins to Akbar who erected the walls and gates and the first buildings on the eastern banks of Yamuna River. Shah Jehan added the impressive quarters and the mosque while Aurangzeb added the outer ramparts. Visit its Hall of Public Audience and its Royal Pavilions.
Evening at leisure


Dinner and Overnight at hotel
---
Day III :              AGRA – JAIPUR                DRIVE 
---
Morning at 0800 hrs after breakfast drive to Jaipur ( 235kms / 6 - 7  hrs ) enroute visit fatehpur sikri.
Arrive Jaipur by 1500 hrs on arrival check in at hotel.
Evening at leisure
Dinner and Overnight at hotel
---
Day IV :       In    JAIPUR
0800 hrs After breakfast at the hotel, at 0800s hrs you will be driven just outside Jaipur to the ancient capital of Amber to see the fabulous Amber Fort. Maharaja Mansingh, Mughal Emperor Akbar's most successful General, started the construction of Amber Fort in the 17th century.

Before the City Palace was constructed in Jaipur, Amber was the seat of power. The fort is surrounded by fortified battlements and overlooks the Moat Lake. Ruins and remains are spread over the Aravalli hills and sprawling crenulated walls lattice the surrounding area.

Once on top, stroll through the sprawling complex of courtyards and halls. Many of the rooms have delightful wall paintings, with precious stones and mirrors inlaid in the walls. Most fascinating,

perhaps, is the Sheesh Mahal (hall of mirrors) where a single lamplight is reflected in the many mirrors, lighting up the room.

En-route to Amber you will stop and see the `Palace of Winds', otherwise known as Hawa Mahal. It is really an elaborate facade behind which the ladies of the court used to watch the daily goings on in the street below. It is extremely intricate in its pink sandstone carving. The cool wind blows through its facade of windows and latticed screens through which the queens of the court once viewed the streets of the city. This days tour will finish by 1600 hrs which includes shopping.

Afternoon you will visit the city of Jaipur. Among the highlights to be seen while touring Jaipur include the City Palace, which is an overwhelming complex of exquisite palaces, gardens and courtyards, decorative art and carved doorways. The palace museum houses collections of rare manuscripts, armoury, costumes, carpets and miniature paintings. Walk to the adjacent Jantar Mantar or Astronomical Observatory made by the Maharaja of Jaipur, built in 1726 and is one of the five such astronomical wonders built by Sawai Jai Singh and makes accurate predictions even to this day. You will also have the opportunity to wander about the local markets. Return to your hotel after the sightseeing tour of Jaipur City. Day at leisure – free for optional tours and shopping

Dinner and overnight at Hotel
Overnight at hotel
---
Day V :              JAIPUR – DELHI                      DRIVE        
---
Morning after breakfast , leisurely depart at 1300 hrs . 
Drive to Delhi ( 265kms / 6-7 hrs ) . to T3  of International Airport
---
DEPARTURE DELHI FLIGHT

Send us your query : info@deeadventureholidays.com or Call us : +91-9810-465-860